This recipe is from Canelle et Vanille, and is found here. This was another two-dayer; I made the compote Christmas eve, and the mousse on Christmas morning, after the hullabaloo died down. Since I linked you to the recipe, I'll skip that and move on to the photos.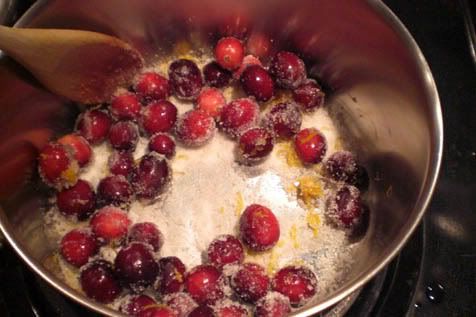 after making weight to volume conversions, I got out the scale and weighed everything anyway, because in volume measures, everything seemed really small. But they were pretty close, so I dumped the sugar, cranberries, and orange zest into a saucepan and started cooking.



here they are, hot but not yet popped...



here some have cracked and some have popped. after a decent number had popped. I...



attacked them with a stick blender, but I obviously should have used our smallest saucepan because there was barely enough depth to puree the stuff. Eventually I prevailed, with some "Gimme that!" from my mom ;)



I dished it up between three wine glasses, covered them, and chilled it in the fridge overnight.
I cut the white chocolate that night, as well, so that on Christmas morning I could start right in on the mousse.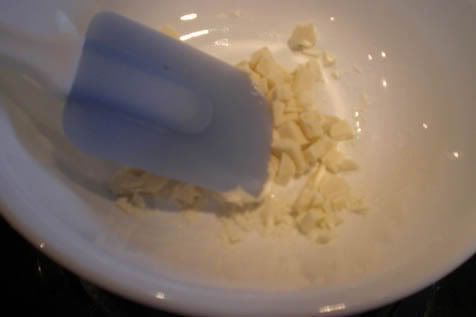 Chopped Ghiradelli white chocolate (about 2 and a little over 1/2 ounces--I didn't use weight for this) over a pot with an inch of simmering water in it (aka "homemade double boiler")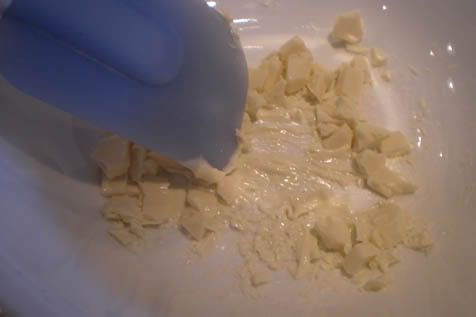 Its starting to melt!



All melted, set aside to cool. Whenever I melt chocolate, I take it off the heat while there are still lumps of solid chocolate in there, and stir it until they melt by virtue of the heat left in the melted chocolate. Works like a charm every time!



I poured the whipping cream into a bowl and started to whip (using the whisk attachment of the stick blender-handy!) then I realized my bowl, though large,was too small (due to the whipping cream splattered on my face) and transferred it to another bowl



and started whipping.



I'm always afraid of overwhipping, so I was tempted to stop when it looked like this, but it didn't meet the Alton Brown "soft peaks" test, so I kept going...



'til I got this!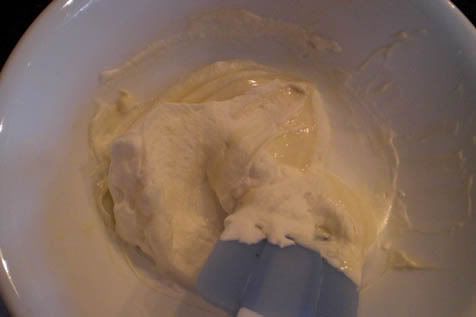 I folded a third of the whipped cream into the white chocolate--you can see how yellow the chocolate looks in comparison



Then I folded it back into the rest of the whipped cream, and put it into the wine glasses with the compote. I have no pics of that because the original post said to pipe it, which would keep the glasses pretty...I spooned it, which did not keep them pretty. But was the lazy way, which worked for me. Then I chilled them again.



This is what they looked like when it was time to eat them.