I made Christmas Eve dinner this year instead of Christmas day. My mom brought a tradition from her family, where we eat no meat on Christmas Eve, which means most years we have pierogis, some angel hair pasta, and some sort of fish or some shrimp. THIS year we had:
Swordfish Steaks with Lime Marinade
the original recipe calls for 8-8 ounce swordfish steaks. the steaks at all the grocery stores here only had much much bigger steaks. We got two. They were huge and we could have easily fed the three of ourselves with just one.
1/4 cup fresh squeezed lime juice
2 teaspoons lime zest
3 garlic cloves, minced
1/3 cup soy sauce
3 scallions finely chopped
1/2 teaspoon pepper
lime sliced and scallion curls for garnish (optional)

combine all but the steaks and garnish, mixing well.

put the steaks in a stainless steel or glass pan/casserole dish. pour marinade over them, turn to coat. Refrigerate for several hours.

broil for 4-5 minutes per side, until fish flakes with a fork (we broiled in the casserole dish, but the recipe calls for a broiling pan)

serve with marinade spooned atop, garnish if desired.

Shrimp and Pasta in a Pot
which I have been referring to as "shrimp, penne, and peas in a cheesy cream sauce"

1 pound medium shrimp, uncooked and cleaned (we got a 30 count pound)
1 8 ounce package petite peas
1 pound pasta (obviously, I chose penne)
1/2 cup butter
1 cup heavy cream
1/2 cup shredded swiss
1/2 cup romano
1/2 cup parmesan
salt and pepper to taste
(we left the swiss out, because it wasn't shredded and I didn't know until too late)

Bring water to a boil, add pasta and peas, stirring to keep from sticking

bring to second boil, add shrimp and cook until pasta is al dente and shrimp is opaque

melt butter in pan, add cream, and stir. JUST before it starts to boil, add cheeses and mix well.

Drain pasta et al, mix with cheese sauce. serve.

and spinach (steamed, with butter).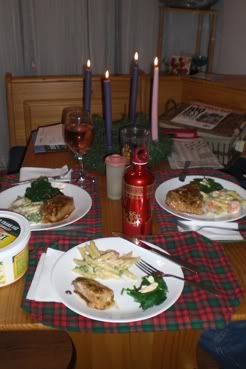 The for dessert we had, from Fran Bigelow's Pure Chocolate cookbook, Chocolat au chocolat rolled cake

4 ounces bittersweet chocolate, finely chopped (all the chocolate we used this time was scharfen berger)
4 large eggs, separated
1/2 cup plus 2 tablespoons sugar
2 tablespoons brewed espresso (I used hot water--can't have coffee)

chocolate sour cream ganache
6 ounces bittersweet chocolate, finely chopped
1 cup sour cream

dark chocolate ganache glaze (see below)

Rack in middle of oven, preheat to 325 F

lightly butter a 9x13 or quarter sheet pan, line with parchment, and butter parchment.

melt 4 ounces chocolate in double boiler, set aside.

whisk egg yolks with half the sugar on medium high speed. Scrape the bowl and mix on high until mixture is thick and pale yellow, about 5-6 minutes.

in a different, clean bowl with clean whisk or beaters, whip egg whites and remaining sugar to stiff peaks *but not dry*

add coffee/water into melted chocolate and stir constantly until it returns to a smooth, creamy chocolate. lighten chocolate with one third of yolks. gently fold lightened chocolate into rest of yolks. lighten yolk/chocolate with one fourth of whites, folding gently, add whites in three more additions, folding gently each time, trying not to loose volume. pour into pan, smooth top. Bake 20-25 minutes, until top is domed and tester comes out dry with some crumbs. cool in pan (sides will pull away from pan as it cools)

Sour Cream Ganache:
melt 6 ounce chocolate in double boiler, set aside to cool to luke warm

add sour cream to mixer bowl, whisk about 20 seconds on medium high speed. scrape chocolate into mixing bowl with mixer on low. mix to combine.

spread over cooled cake, leaving 1 inch bare at longer sides. Roll layer (long side rolling in) with parchment, removing parchment as you go. Finshed roll will be about 3 inches by 12 inches. Glaze.

Dark Chocolate Ganache Glaze:
8 ounces semisweet chocolate, finely chopped.
1 cup heavy cream

put chocolate in mixing bowl.

heat cream over medium high heat until it starts to boil. pour over chocolate and let sit 1 minute. stir until it comes together (I promise it will become glossy and smooth and beautiful). reserve 1/4 cup and stick in fridge to chill 20 minutes. cool rest on counter, 30 minutes or so.

thinly frost roll with chilled glaze, then pour rest of glaze over, making sure to cover ends and sides. use offset spatula if necessary.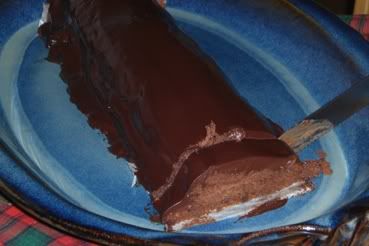 its really rich, serve with vanilla ice cream or milk to cut the richness.

This morning, I made a recipe of my own devising (though I'm sure its similar to many out there) which I have dubbed Crustless Quiche a la Melanie. all measurements are approximate:
2-3 baked potatoes
2-3 scallions, chopped
1 rasher lower sodium bacon
5 eggs
1/2 cup half and half
1/4 cup romano
1/4 cup parmesan
1 cup shredded mexican cheese blend, split in half

make bacon, let cool. while bacon is cooking/cooling, cube potatoes and chop scallions. Preheat oven to 350 farenheit. beat eggs in bowl with half and half.

after bacon is done, saute scallions for about a minute in bacon grease, then add to eggs. fry potatoes in bacon grease, add to eggs. add parmesan, romano, and half mexican cheese blend, mix in. put in 8x8 pan or 2 qt casserole dish, cook in oven 25-30 minutes. sprinkle remaining mexican cheese blend over top, return to oven until melted. let sit a couple minutes to cool, then slice and serve.